MPS discusses establishment of Public Security Veterans' Association
Thứ Năm, 25/11/2021, 16:13
General To Lam, Minister of Public Security, chaired a seminar on a project to establish the Public Security Veterans' Association, w on November 24.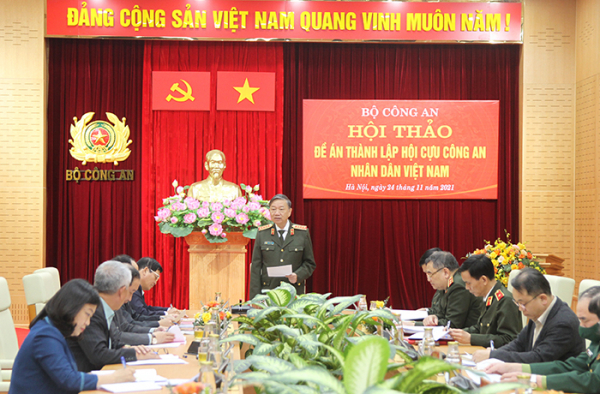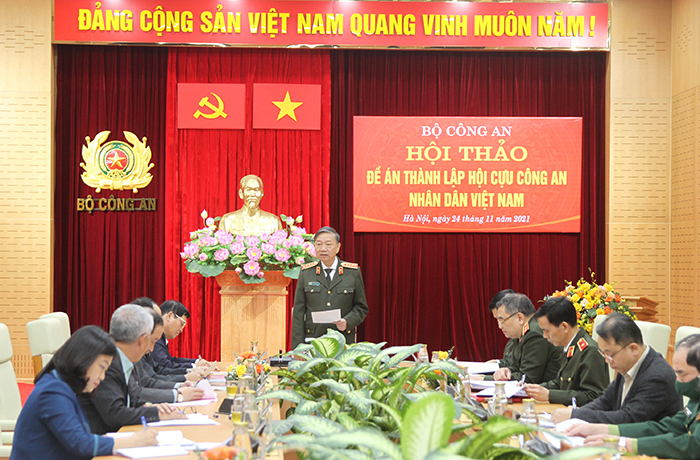 The event saw the presence of Senior Colonel Nguyen Van Son, Deputy Minister of Public Security, and representatives from relevant ministries and agencies as well as leaders of agencies and units under the MPS.
Speaking at the event, Minister To Lam stated that in order to formalize the organization and operation of the Retired Public Security Officers' Clubs and further strengthen the leadership and direction of the Party committees in localities and leaders of local police units nationwide, the Minister of Public Security on November 27, 2014 issued Directive 15/CT-BCA-X11 on strengthening the public security agencies and units' the leadership of the retired police officers clubs in localities nationwide.
The directive directed the establishment of clubs of retired public security officers from Central level to local. But, the retired public security officers' club model has shown various limitations and has not met the requirements of public security veterans for their activities.
To resolve the issues, the Public Security Central Party Committee and the MPS leaders crafted a project to establishment of the Public Security Veterans' Association in line with the guidelines of the Party and laws of the State. When the project is completed, it will be submitted to the Politburo for further consideration.
Under the project, the Vietnam Public Security Veterans' Association as a social organization with voluntary membership. It is managed by the Ministry of Public Security, run by its Central Committee and self-funded without State payroll, and not for profitable purposes.
The organization must complies with the Constitution, the laws and operates according to the Association's charter in accordance with the Party's guidelines, Decree 45/2010/ND-CP issued on April 21, 2020 by the Government and follows the nature, characteristics and aspirations of the former public security officers. Its operation must also follow the democratic, equal, public and transparent principles.
The Vietnam Public Security Veterans' Association's highest executive body is the Central Committee responsible for all operations of the organization and its local-level branches while local committees run local chapters in localities nationwide. Local chapters of the association must also be put under the leadership of the local Party committees.
Delegates focused their discussion on the size of the organization and the domain of its operation as well as the steps to establish the association and the ways to manage it and its operation in the future.
For this part, Minister To Lam thanked all delegates for their valuable recommendations and wished to receive more comments on issues related to the establishment of the association. He also hoped that other ministries, Central agencies and branch would support the MPS to soon complete the project so as to submit it to the Politburo for consideration.