Police units asked to drastically fight criminals with weapons
Thứ Sáu, 19/05/2023, 21:34
The Ministry of Public Security held a professional meeting on enhancing crime prevention and control in a number of key localities, on the afternoon of May 16, 2023, in Hanoi.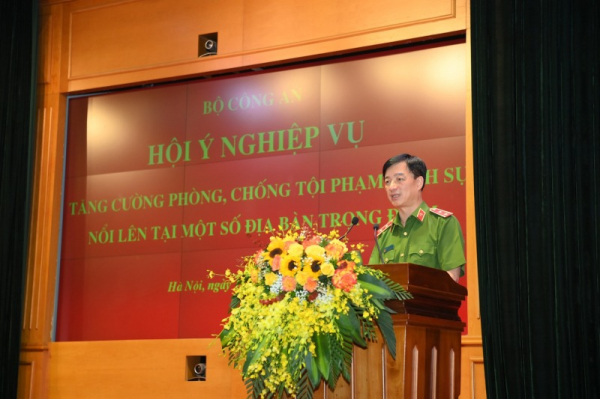 Deputy Minister of Public Security and Head of the Criminal Investigation Agency of the Ministry of Public Security Lieutenant General Nguyen Duy Ngoc chaired the meeting.
At the conference, delegates focused on clarifying the shortcomings, limitations and proposing solutions to improve the efficiency of coordination among relevant forces in the prevention and control of "street crime", increased patrol and control to early detect crime and handle offenders.
Delegates also discussed approaches to resolutely fight criminal cases with the use of weapons and explosives, including fights among criminal bands and groups of youngsters youth using weapons or offenders using weapons to fight law enforcement officers.
Additionally, delegates discussed ways to counter emerging criminal group on cyberspace, and drew up lessons learned from the deployment of special working groups to patrol, detect and handle "street criminals".
Concluding the meeting, Deputy Minister Nguyen Duy Ngoc asked heads of police units at all levels to strengthen their leadership and responsibility in fighting crime.
It is necessary to actively review, understand, and properly and fully implement the instructions of the Public Security Central Party Committee and leaders of the Ministry of Public Security and professional plans to prevent and fight crimes while promptly advising and proposing efficient solutions to emering issues.
Police units should also increase patrols, early detect complex cases, and drastically handle criminal groups with weapons.