Public Security Forces asked to actively respond to storm Nuro and possible torrential rain
Thứ Hai, 26/09/2022, 22:09
The Office of the Ministry of Public Security (MPS) on September 24 sent a dispatch to various public security agencies and units requesting them to take appropriate measures in response to Storm Nuro.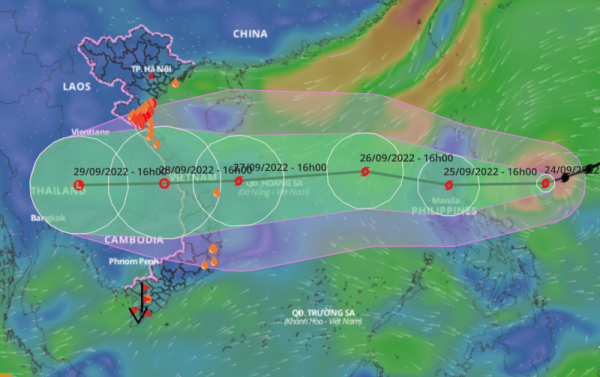 The dispatch was sent to the Steering Committee for Climate Change, Natural Disaster Prevention and Control, and Search and Rescue under the Ministry of Public Security, the provincial-level police departments of coastal provinces from Quang Ninh to Binh Thuan, as well as the Mobile Police Command, the Police Department of Fire and Rescue, the Traffic Police Department, and the Police Department of Prison, Detention Center and Juvenile Reformatory Management.
To proactively respond to the upcoming storm and possible torrential rains in the Central region, the MPS Office asks all above-mentioned units to strictly implement orders, dispatches issued by the Government, the Central Steering Committee for Disaster Prevention, the Office of the National Committee for Search and Rescue, as well as directions of the MPS and local authorities on the response to the storm and the storm's consequence relief.
The MPS urged the units to closely monitor developments of the storm and related dangerous weather phenomena via the mass media to map appropriate responses to the situation while promoting the leading role of the Public Security Forces in preventing and responding to natural disasters, and preparing forces and means for guiding traffic flows in waterlogged road sections, especially at important routes during the storm. Meanwhile, leaders of the participating units should ensure safety for the officers and soldiers working at disaster-hit areas as well as at police stations.
Police forces of coastal provinces and cities from Quang Ninh to Binh Thuan are requested to closely coordinate with relevant forces and units to take measures to ensure safety for people and their properties off aquatic farms and tourist ships, carefully check and guide ships to find safe shelters, and enhance inspection to ensure fire and explosion safety, security and order during the storm.
All police units from Thanh Hoa to Quang Ngai are requested to deploy forces and means, in coordination with relevant forces, to check residential areas on rivers, streams, dikes and lakes, dams, and low-lying areas with high risk of floods and landslides to move them to safe places, and support farmers to harvest crops and protect aquaculture farms.
Moreover, the police forces should give people instructions on skills to respond to storms and floods and encourage the media to cover images of the Public Security Forces in responding to natural disasters and supporting disaster-hit people to overcome consequences.
Involved units should send regular reports on situation in their localities to the MPS Office via hot line 069.2341042, 0913.555.323; Fax: 069.2341044.