Public Security Sports Association and Hungarian Olympic Committee sign sport cooperation deal
Thứ Năm, 21/09/2023, 22:05
PSNews - Within the framework of his visit to Hungary from September 12-16, 2023, Deputy Minister Lieutenant General Le Quoc Hung led a high-level delegation of the Ministry of Public Security of Vietnam worked with Secretary General of the Hungarian Olympic Committee Laszlo Fabian.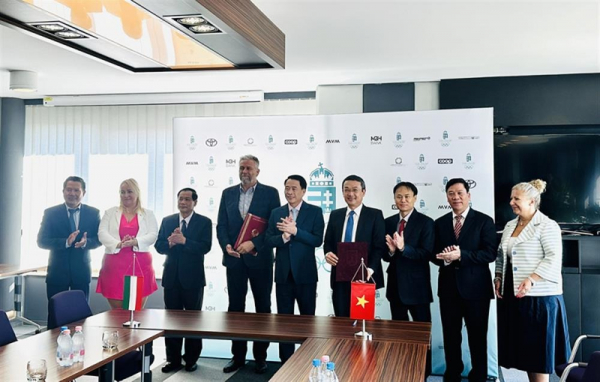 At the meeting, Deputy Minister Le Quoc Hung expressed his joy when visiting Hungary on the occasion of the two countries' celebration of the 5th anniversary of the establishment of a comprehensive partnership (2018 - 2023).
The guest wished that Vietnam's Ministry of Public Security and the Hungarian Olympic Committee would promote cooperation, and the the Hungarian side would support the Vietnamese side in training athletes based on its strengths.
At the end of the meeting, Vice Chairman of the People's Public Security Sports Association and Director of the Department of Party and Political Work under the Ministry of Public Security of Vietnam Lieutenant General Nguyen Ngoc Toan signed a Memorandum of Understanding on cooperation between the Vietnam People's Police Sports Association and the Hungarian Olympic Committee in physical education and sports, thereby creating a legal basis and an important premise for the two sides to strengthen cooperation.