Vietnamese police peacekeepers celebrate National Day in South Sudan
Thứ Tư, 06/09/2023, 20:03
The group of Vietnamese police peackeepers working at the United Nations Mission in South Sudan (UNMISS) recently organized an event to celebrate the founding day of the Public Security Forces (August 19, 1945) and the National Day (September 2, 1945), in South Sudan.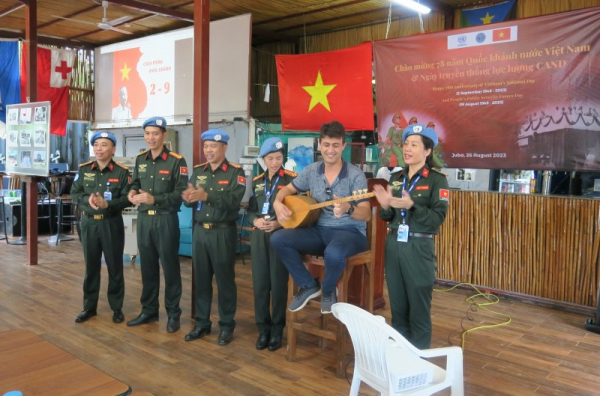 Present at the ceremony were Police Commander at UNMISS Christine Fossen, high-ranking officials at UNMISS, leaders of police peacekeeping missions of other countries at UNMISS, commanders of the Indian gas unit, Indian information unit, Cambodian military police unit, and friends.
The ceremony took place in a warm and solemn atmosphere with flag-raising ceremonies. 
Delegates attending the ceremony got especially moved when they were listening to the Declaration of Independence read by President Ho Chi Minh on September 2, 1945 with English subtitles. 
Friends from other countries were strongly impressed with the content of the Declaration of Independence, expressing their admiration for the great mind and vision of President Ho Chi Minh.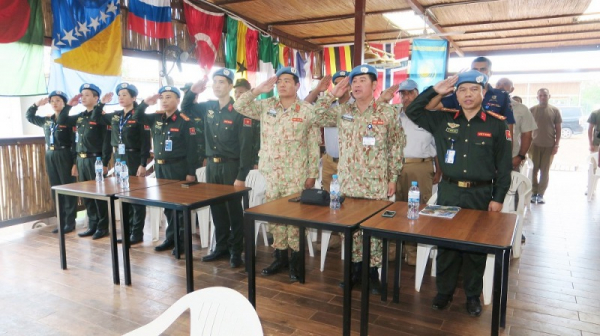 Speaking at the ceremony, Ms. Christine Fossen expressed her good feelings and emotion when attending the ceremony.
She underlined that she really felt the traditional and unique culture of Vietnam, a peace-loving country with a long-lasting history of building and defending the country. 
Ms. Christine Fossen also took the chance to recognize the contributions of the Vietnamese police force to the general task accomplishment of UNMISS, and hoped that Vietnam will continue to send more Vietnamese police officers to UN peacekeeping missions so as to continue the good traditions of the Vietnam People's Police Force.