Vinh Phuc honors good examples of supporting ex-prisoners
15:33 04/11/2021
PSNews - Recently, the People's Committee of Vinh Phuc province held an event to praise good examples of managing, educating, and supporting ex-prisoners to reintegrate into the local community from 2016-2021.
The event saw the presence of Lieutenant General Tran Quoc To, Member of the Party Central Committee, and Deputy Minister of Public Security.
Since 2016, the authorities of Vinh Phuc province have received 7,200 released inmates, including 51 juveniles, who were released from prisons or compulsory corrections centers, and returned to their home villages.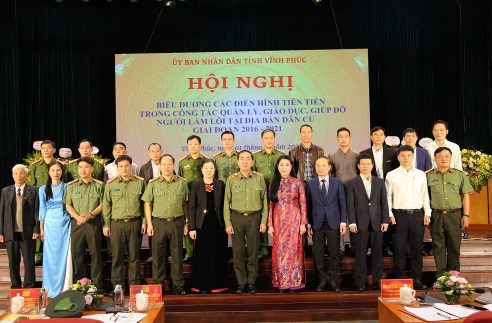 The provincial functional forces have tried their best to overcome difficulties in managing, educating, and supporting the ex-inmates to reintegrate into society in many creative ways and with the participation of the political system and local residents.
As a result, over the past 5 years, nearly 4,100 ex-prisoners have been offered stable jobs while over 1,200 have made much progress. In the province, 18 localities have become role models of management and education of ex-offenders.
At the event, typical examples in the province shared their experiences as well as innovative ways in supporting released inmates to restart their lives, contributing to preventing crimes and maintaining security at the grassroots level.
Addressing the event, Deputy Minister To praised the efforts and support of local authorities for former prisoners. He suggested, in the coming time, the Party committees and authorities at all levels as well as the people in Vinh Phuc continue prioritizing the management and support of local ex-prisoners as an important and long-term task.
On this occasion, many teams and individuals were praised for their good achievements in supporting ex-offenders to reintegrate in society by the Ministry of Public Security and the Vinh Phuc Provincial People's Committee.