Winners of "Reading Culture Ambassador" Contest 2021 named
21:52 20/10/2021
The Ministry of Public Security (MPS) held a ceremony on October 19 in Hanoi to award prizes to winners of the "Ambassadors of Reading Culture" Contest 2021.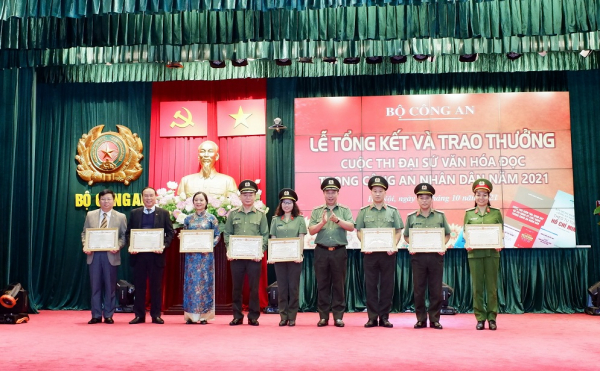 Launched on March 16, the contest aimed to promote the reading culture in the People's Public Security Forces as well as encourage public security officers, soldiers, and cadets to read more books.
After more than 4 months, 313,695 entries from officers and soldiers of 103 public security units were sent to the contest organizers. Of them, 3,185 were selected for the finale.
Joining the contest, contestants answered various questions put by the Organizing Committee, gave their opinions on their favorite books as well as proposed ideas to improve the reading culture in the community and especially in the People's Public Security Forces.
15 A prizes, 30 B prizes, 40 C prizes, and 50 Consolation prizes were presented to outstanding contestants at the ceremony. The Organizing Committee also selected 50 best articles to compete in the national contest, which will be held by the Ministry of Culture, Sports and Tourism.