Vietnamese students win ASEAN Data Science Explorers 2020
17:42 20/11/2020
PSNews - Two Vietnamese students from RMIT University Vietnam won the first prize at the Regional finals of ASEAN Data Science Explorers 2020 (ADSE 2020) with the project "People with Disability: Unblocking the Economic Bottleneck".
The final round of ADSE 2020 recently took place in an online format. The Vietnamese team "Catfish", made up of teammates Hoa Phung and Thinh Nguyen from RMIT University Vietnam, claimed first place. During the competition, the pair presented their project which focused on the statement of "People with Disability: Unblocking the Economic Bottleneck".
Addressing the awards ceremony, Thomas Zipperle, chief financial officer of SAP Southeast Asia, stressed that the ADSE programme serves to demonstrate the cultural diversity that SAP aims to celebrate, whilst also embracing the ASEAN region.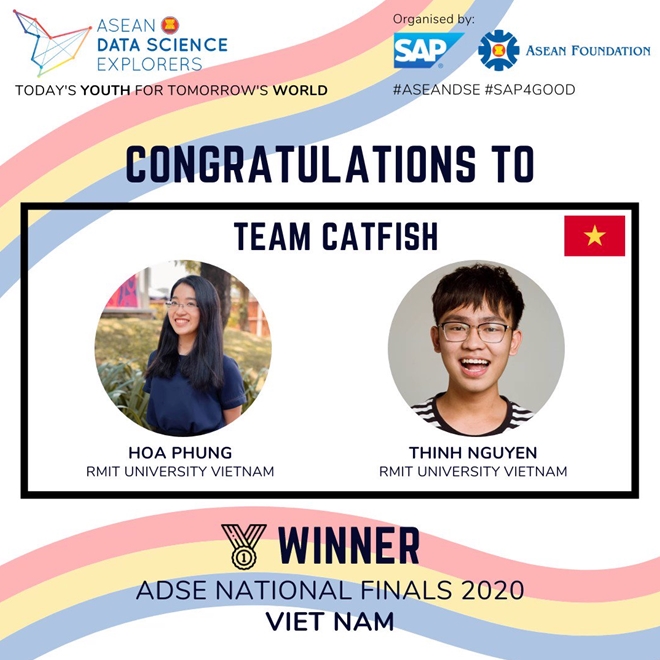 Photo: ASEAN Foundation.
"Digital skills are essential for the workforce of today and the future. SAP Analytics Cloud aims to bridge the digital gap in ASEAN and empower youths to create sustainable innovations to address socio-economic issues," Zipperle added.
In response, Yang Mee Eng, executive director of the ASEAN Foundation, said that both the ASEAN Foundation and SAP share the common objective of providing young people with future-proof skills. It is hoped that by educating the youth, it will enable them to thrive in an ever-changing world and will ultimately support the theme of Vietnam's ASEAN Chairmanship, which is building a "Cohesive and Responsive ASEAN".
The first runner-up position and the second runner-up spot belonged to team Halcyon Seraph (ASEAN Women-UP Township Network) and team Psyduck (Digital Integration, the Key to Growth) respectively. Team Halcyon Seraph comprised Koay Tze Min and Ng Yi Ming from the National University of Singapore and Yale-NUS College, while team Psyduck made up of Oscar Fang Jack Ling and Quah Chun Meng from Universiti Teknologi Malaysia.
As reported, the organizing board received a total of 852 proposals in this year's competition. Judges then evaluated each entrant based on their ability to collect, analyse, and present data, as well as the concepts which best tackle ASEAN socio-economic issues.
Starting in 2017, ASEAN DSE is a collaboration scheme that is held annually between the ASEAN Foundation and SAP.
The scheme serves as a reliable avenue for young people in ASEAN to improve their data analytical skills whilst bringing about greater digital inclusion in the region. It has also empowered up to 16,309 students and 1,420 lecturers from 370 institutions across ASEAN through data science skills.