Vietnam information ministry enhances cooperation with University of Technology Sydney
Thứ Tư, 09/08/2023, 22:16
A delegation from the Ministry of Information and Communication on August 8 visited Techlab at Australia's University of Technology Sydney (UTS) to promote cooperation in digital technology and connectivity, and support businesses of the two countries.
At Techlab UTS, the delegation, led by Minister Nguyen Manh Hung, visited digital technology experiment systems and advanced research equipment with high specificity, such as Nokia's 5G Future Lab, Technology 4.0 laboratory for algae farming, brewing, earthquake-simulating vibrating tables, sealed chambers against echoes and electromagnetics.

Introducing Nokia's Future of 5G lab, Tristan Lee, a Nokia representative at Techlab, said that this is the convergence of Nokia's world class 5G technology with Techlab UTS. Nokia's Future of 5G lab is a place to demonstrate and test the transformative use of 5G's potential in various industries, he said, adding research at the lab is all practical and marketable as soon as they are completed.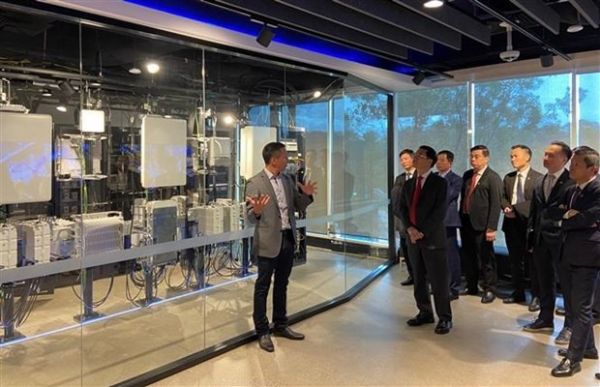 In a cordial exchange with the Vietnamese minister, Iain Watt, Vice-Chancellor and Vice-President (International) of UTS, said that the university has chosen Vietnam as a strategic partner for cooperation in technology transfer research and bringing research products to society.

Techlab UTS is a new direction, where there is a large-scale technical infrastructure with specialized laboratories dedicated to enterprises. Partners have access to experts, specialized labs and equipment, funding opportunities, and talented students, he said.

This supports an innovation ecosystem that collaborates with startups, SMEs and large multinational organizations with academic and technical teams, he added.

Iain Watt also gave some examples of recently completed UTS projects in Vietnam that have technical applications. UTS has installed and deployed a coastal water quality monitoring system at Xuan Dai Bay in the south-central province of Phu Yen so that aquaculture farmers can have real-time data.

In collaboration with the Vietnam National Committee for Search and Rescue, UTS has also built a drone-based simulation system to assess risks and offer the safest, fastest and most effective approaches to the scene.

Minister Hung appreciated the cooperation between UTS and Vietnam and suggested further activities, especially cooperation in education.

According to the estimate, Vietnam will lack 60% of human resources in digital technology. As a country with a good education and training system, Australia will meet part of the demand for digital technology training for Vietnam as well as other countries in the ASEAN region.

The Vietnamese official also emphasised the development of Vietnamese digital businesses that are currently providing products and services to many countries around the world.

"This is also an opportunity for UTS to cooperate with Vietnam more," he noted.