Vietnam holds large potential to develop semiconductor
Thứ Hai, 20/11/2023, 10:29
Vietnam's potential to develop the semiconductor industry is substantial, and the country is increasingly active in both regional and global semiconductor ecosystems. Insiders believe that Vietnam possesses the necessary conditions and factors to foster the growth of this industry.
The Foreign Investment Agency, operating under the Ministry of Planning and Investment, reported that Vietnam received over 25 billion USD in FDI during the first 10 months of this year, up nearly 15% year-on-year.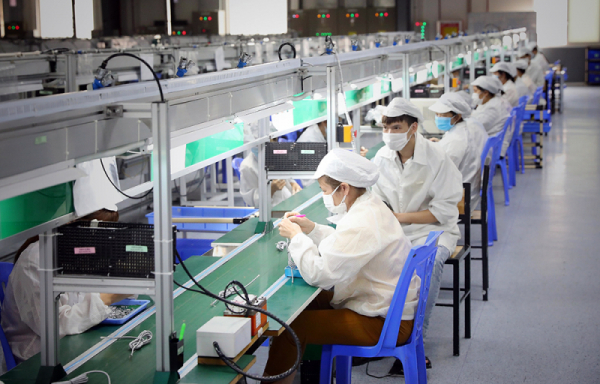 Numerous technology groups have already made substantial investments in Vietnam. For instance, half of Samsung's global smartphone output originates from Vietnam, which has also encouraged other tech giants, including Apple, to expand their operations in the Southeast Asian country.
Vietnam has attracted the attention of the US Semiconductor Industry Association and many businesses seeking to explore investment opportunities in the region for chip production relocation.
Earlier, as reported the Foreign Investment Agency (FIA) under the Ministry of Planning and Investment, over 15.29 billion USD was channelled into 2,608 new foreign direct investment (FDI) projects as of October 20, respectively up 54% and 66.1% year on year, statistics showed. It added up to more than 25.76 billion USD in total FDI during the period, rising 14.7%.
Of the total, over 5.33 billion USD was added to 1,051 existing projects. Though the additional capital fell 39%, the project number still increased 19.4% from a year earlier, showing investors were confident in Vietnam's investment climate so they decided to expand their projects.
Meanwhile, foreign investors spent over 5.13 billion USD on contributing capital to and purchasing shares of domestic companies via 2,836 transactions, respectively rising 35.4% and dropping 5.4%. During the period, about 18 billion USD was disbursed for FDI projects, up 2.4% year on year, according to FIA.
Up to 18 of the 21 economic sectors received FDI during the first 10 months. Among them, the processing and manufacturing industry took the lead with nearly 18.84 billion USD, accounting for almost 73.1% of the total and rising 45.8% year on year. It was followed by real estate (nearly 2.14 billion USD, down 44.8%), finance - banking (nearly 1.54 billion USD, up 61.4-fold), and wholesale - retail (nearly 907 million USD, up 6.3%).
Processing and manufacturing also ranked first in terms of new projects (32.8% of the total) and those with additional capital (54.4%). Meanwhile, the wholesale and retail sector recorded the biggest number of capital contribution and share purchasing transactions (41.6%).
During the 10 months, 108 countries and territories poured money into Vietnam. Singapore topped the list with nearly 4.65 billion USD, making up over 18% of the total and declining 13%. It was followed by the Republic of Korea (RoK) with nearly 3.93 billion USD (making up 15.2% and rising 0.5%), and Hong Kong (China) with nearly 3.54 billion USD (making up over 13.7% and rising almost 2.6-fold).