Minister To Lam meets with voters in Hung Yen
20:58 09/10/2021
The Committee of the Vietnam Fatherland Front of Hung Yen city (Hung Yen province) held an online meeting between the National Assembly deputy delegation of Hung Yen province and local voters on October 7, ahead of the second session of the 15th National Assembly (NA).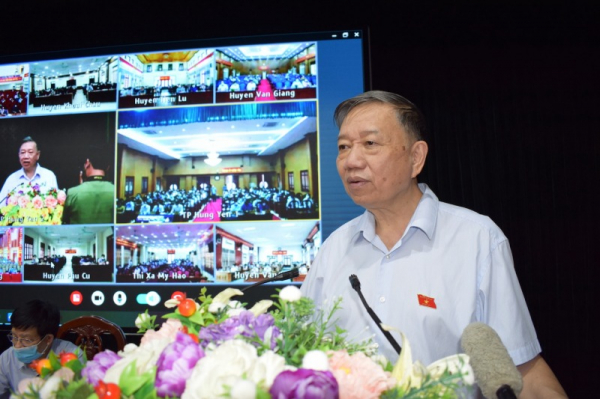 The videoconference saw NA deputies of Hung Yen province, including General To Lam, Politburo Member and Minister of Public Security; Mr. Do Tien Sy, Member of the Party Central Committee, General Director of the Voice of Vietnam.
At the meeting, voters were briefed on the outstanding results of the first session  of the 15th NA as well as plans of the provincial NA delegation for the second session.  
The second working session of the 15th NA is expected to open on October 20 and close on November 13.
Depending on the COVID-19 situation, the second NA session would be held in either virtual or physical form.
Voters attending the online meeting on October 7 raised their concerns over a number of issues, including prevention and fighting of distorted and fake information on cyberspace.
Regarding the COVID-19 prevention and combat efforts, voters hoped that the higher level authorities would raise local healthcare capabilities, ensure social welfare and support people hit by the pandemic, distribute more COVID-19 vaccines to localities and support farmers in selling produce.
Voters also expressed concerns over some justice issues, environmental pollution, land clearance for construction, anti-corruption, economic development and local transport infrastructure.
The Provincial Party Committee Secretary and Provincial People's Committee Chairman thanked the voters for their comments and responded to the voters' questions.
Speaking at the meeting, Minister To Lam expressed his sympathy for local voters who faced lots of difficulties during the pandemic, saying that the Party, State have try their best to ensure social welfare and support people.
In order to support Hung Yen's COVID prevention and combat efforts, the provincial NA delegation presented the health sector of the province one million facemasks, 200,000 COVID quick test kits, 800,000 doses of vaccines and 5 ventilators and 200 million VND in cash.