Deputy Minister Le Van Tuyen takes a business trip to Dien Bien
Thứ Tư, 23/11/2022, 23:48
A delegation of the Ministry of Public Security led by Deputy Minister of Public Security Major General Le Van Tuyen carried out a general inspection at Hua Thanh commune, Dien Bien district, Dien Bien, on November 21.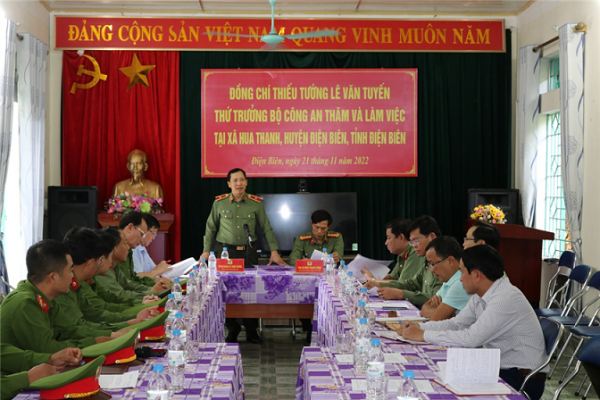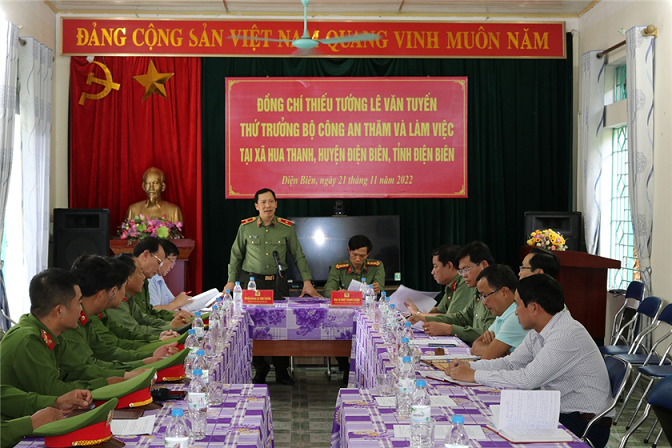 At the meeting, the deputy minister and other delegates listened to a general report delivered by a local leader of Hua Thanh commune on the security and socio-economic development situation in the locality.
Deputy Minister Le Van Tuyen hailed the achievements of the local Party committee, government and people in promoting socio-economic development and ensuring order and security in 2022.
Regarding key tasks for the locality in the coming time, Deputy Minister Le Van Tuyen suggested improving local people's living standards, eradicating hunger and reducing poverty sustainably while strengthening relations with the border villages of the Lao People's Democratic Republic on the other side of the shared borderline, spreading the "All people protecting national security" movement, ensuring security and order, resolutely fighting all kinds of crimes, and stepping up the implementation of the Government's Project 06.