Minister To Lam receives US Ambassador to Vietnam
Thứ Hai, 14/11/2022, 10:45
PSNews - Recently, Minister of Public Security General To Lam hosted a meeting with US Ambassador to Vietnam Marc Knapper, who paid a visit to the Ministry of Public Security in Hanoi.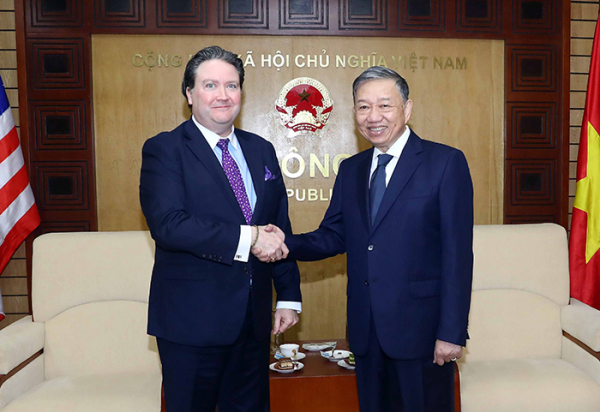 Warmly welcoming Ambassador Marc Knapper to the Ministry of Public Security, Minister To Lam stated that he believed that Ambassador Marc Knapper would have a successful term of office in Vietnam and make a large contribution to strengthening bilateral relations between Vietnam and the United States in general and cooperation between the Ministry of Public Security and US partners in particular goes in a practical and efficient manner.
Minister To Lam affirmed that the leaders of the Party, State and Government of Vietnam always consider the United States as one of the most important partners and wish to bolster the Vietnam-US Comprehensive Partnership on the basis of respect for each other's independence, sovereignty, territorial integrity and political system.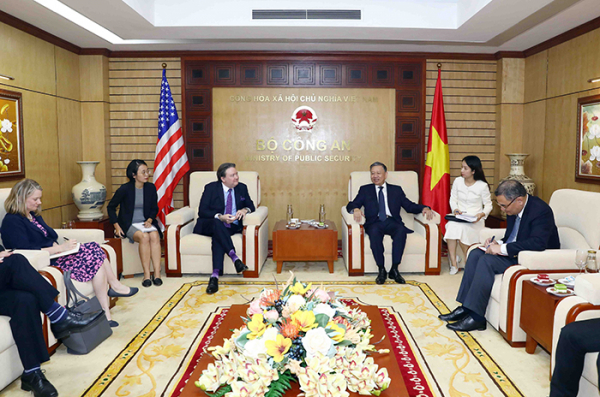 He also hoped that the bilateral relations will develop sustainably for the benefits to the two peoples and making more contributions to security and development in the region and the world.
To further promote the bilateral relationship between Vietnam and the US in general and the cooperation relationship between the Ministry of Public Security and US partners in particular, Minister To Lam suggested the US Government continue to create favorable conditions for the Vietnamese community in the United States to live, work, study in the country in line with the host country's laws.
Regarding cooperation between the Ministry of Public Security of Vietnam and US partners, Minister To Lam suggested early signing an agreement on mutual justice assistance in criminal matters, an agreement on extradition, and an agreement on transfer of convicted persons, saying that these deals will create a legal framework for the cooperation in the field of law enforcement between two sides.
Expressing sincere thanks to Minister To Lam for the meeting, Ambassador Marc Knapper highlighted positive developments in bilateral relations between the two countries in the past time, especially since the two sides established a comprehensive partnership. 
Ambassador Marc Knapper wished the cooperation and relationship between the United States and Vietnam more fruitful results in all fields.