MPS leader praises Long An provincial police in fight against COVID-19
18:13 28/10/2021
During his working trip to southern provinces, Senior Lieutenant General Nguyen Van Son, Deputy Minister of Public Security, and his entourage worked with the Long An provincial police on October 27.
According to representatives of the Long An police, local police forces will continue to seriously implement plans to maintain public order and security and control the pandemic in their localities while strictly handling those who violate regulations of the COVID-19 prevention and control.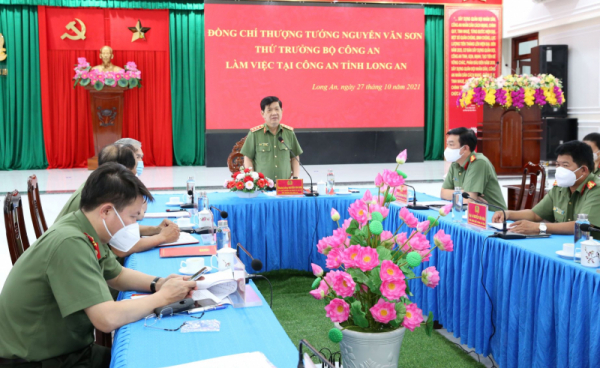 In the areas where the pandemic has basically been controlled, the local police have adjusted their working plans in accordance with the "new normal" state, contributing to the recovery of the local economy.
At the meetings with the police force of Long An, Deputy Minister Nguyen Van Son highly appreciated their efforts in preventing and controlling the pandemic.
He emphasized that the COVID-19 pandemic situation remains complicated for a long time so it requires the local police and the field hospital to prepare sufficient material resources for long-term COVID prevention and control.
They also have to adjust their work plans in accordance with the real pandemic situation in their localities, while supporting local people to soon stabilize their lives.
On this occasion, under the authority of the Prime Minister and the Minister of Public Security, Deputy Minister Nguyen Van Son presented Certificates of Merit from the government and the ministry to individuals and units with outstanding achievements.
On the osscasion, the deputy minister and his aides also visited the Phuoc Loc field hospital (located in Nha Be district, HCMC). At this point, the hospital has 498 patients, of which 120 are police officers. It has successfully cured 291 patients, including 73 police officers.
While performing their duties, all staff members of the Phuoc Loc field hospital strictly complied with the anti- COVID-19 regulations and other medical rules. The hospital weekly tests its staff members for SARS-CoV-2 via both RT and PCR methods.