MPS marks Vietnam Law Day
22:29 10/11/2021
The Ministry of Public Security (MPS) held a ceremony on November 9 to celebrate the Vietnam Law Day via videoconferencing.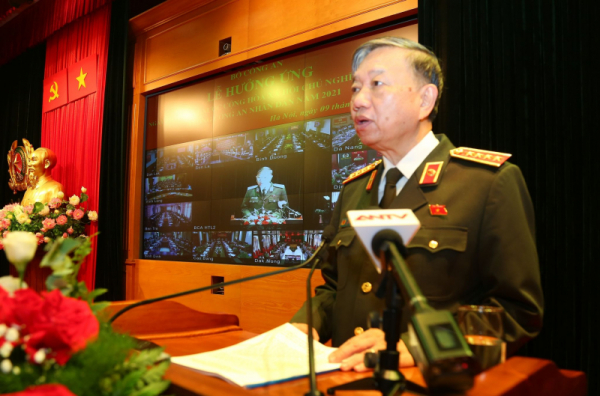 General To Lam, Politburo's Member and Minister of Public Security, chaired the virtual event connecting the MPS Headquarters and provincial-level police departments nationwide. The event also saw the presence of Deputy Ministers of Public Security, namely Senior Lieutenant General Nguyen Van Son, Lieutenant General Nguyen Duy Ngoc, Major General Le Quoc Hung, as well as leaders of the Vietnam Fatherland Front, the Party Central Committee's Commission for Information and Education, and the Ministry of Justice.
Reports at the event read that, since November 2020, the MPS has drafted and submitted the National Assembly two laws, namely the Law on Residence and the Law on Drug Prevention and Control. The ministry also supported the Government in drafting nine decrees guiding the implementation of the 2018 Law on the People's Public Security Forces, the 2020 Law on Residence, the Law on Fire Prevention and Fighting, and the 2019 Law on Execution of Criminal Judgments.
Additionally, under-ministerial public security agencies and local police departments held more than 500 conferences and intensive training courses to equip 132,075 police officers and soldiers with contents of legal documents related to national security and social order protection.
The Public Security Forces also regularly disseminated rights and obligations  of citizens to provide and update their personal information to the National Database on Population as well as the need for chip-based ID cards.
Speaking at the ceremony, Minister To Lam praised the efforts and achievements of the Public Security Forces on the occasion of this year Law Day.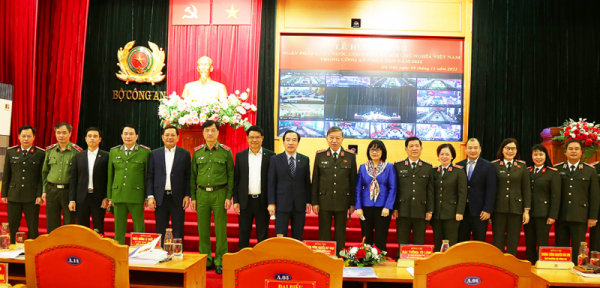 In the coming time, in order to continue promoting the practical meaning and efficiency of the Law Day, Minister Lam asked relevant agencies and units under the MPS to accelerate the drafting of the assigned law projects so as to early submit them to the 15th National Assembly for consideration and adoption.
He also asked them to actively internalize international treaties to which Vietnam is a signatory while negotiating, signing or acceding to bilateral and multilateral international treaties on crime combat, mutual legal assistance in criminal matters, extradition and transfer of sentenced persons.
The Minister also asked under-ministerial agencies and local-level units to further promote administrative reforms as well as simplify administrative procedures to create favorable conditions and ensure legitimate rights and interests of people.
Within the framework of the ceremony, the MPS reviewed the implementation of the project "Strengthening popularization and education of laws for people serving imprisonment sentences; people subject to judicial measures or other administrative penalties, newly-released prisoners, and homeless juvenile ex-offenders in the 2018-2021 period".