Vietnamese MPS, Australian Ministry of Home Affairs boost cooperation
14:56 25/11/2021
Minister of Public Security General To Lam had an online meeting with Australian Minister of Home Affairs Karens Andrews on November 23.
Minister of Public Security General To Lam had an online meeting with Australian Minister of Home Affairs Karens Andrews on November 23.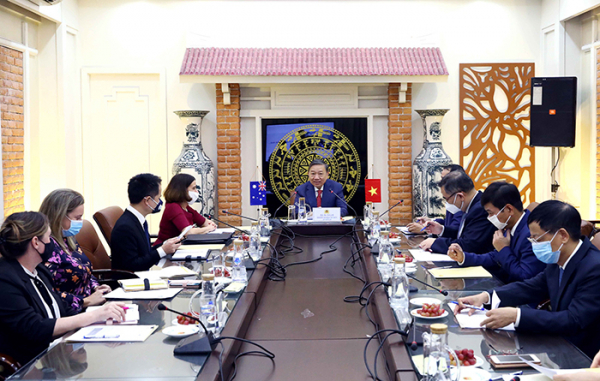 Speaking at the meeting, Minister To Lam affirmed that Vietnam always attaches importance to and wishes to upgrade the strategic partnership with Australia towards a comprehensive strategic partnership on a par with cooperation potentials and needs of the two countries in the new period.
The Vietnamese Minister emphasized that the cooperation in crime prevention and control, immigration management, and legal assistance between the Vietnamese Ministry of Public Security (MPS) and Australian law enforcement agencies has been gradually enhanced over the past years.
The Vietnamese MPS and the  Australian Ministry of Home Affairs are effectively implementing the commitments and agreements in the signed cooperation documents and the minutes of the second Vice-Ministerial Security Dialogue held on December 2019 in Hanoi.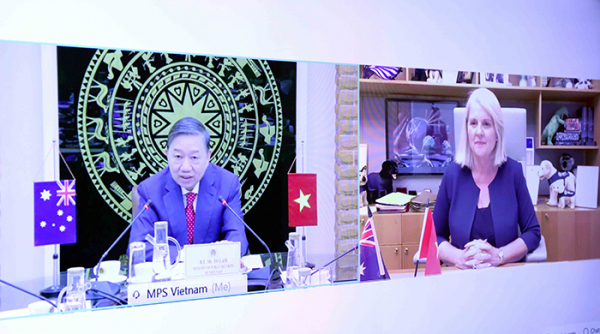 In order to further promote the relations between Vietnam and Australia in general, between the Vietnamese MPS and Australian partners, Minister To Lam suggested the two sides continue realizing the action plan to implement the Strategic Partnership between the two countries for the 2020-23 period.
According to Minister Lam, the two sides should promote cooperation in all fields, including national security and defense while actively working on the roadmap to upgrade the two countries' relations to a comprehensive strategic partnership.
He hoped the Australian Government would create favorable conditions for Vietnamese students, workers and tourists to travel to Australia as well as support the Vietnamese community in Australia to stablize their lives, contributing to the development of the bilateral relations.
The Vietnamese MPS leader wished that Minister Karens Andrews and members of the Australian Government would continue paying attention to tightening the cooperative ties between law enforcement agencies of the two countries, especially in the fields of security, police work, immigration management, mutual legal assistance, capacity building, prevention and combat of drug and high-tech crimes, human trafficking and illegal immigration, non-traditional crimes and cybersecurity issues.
For her part, Minister Karens Andrews expressed her delight at the flourishing  cooperation between Australian law enforcement agencies, including the Australian Ministry of Home Affairs, and the Vietnamese MPS.
She believed that the relationship between the two sides will be further strengthened in all fields in the coming time.