Traffic police not only fulfill their duties, but also actively support people in need
23:55 20/10/2021
Since the beginning of 2021, the traffic police force nationwide has deployed thousands of officers to run checkpoints along key national highways as well as to guide the traffic in localities across the country.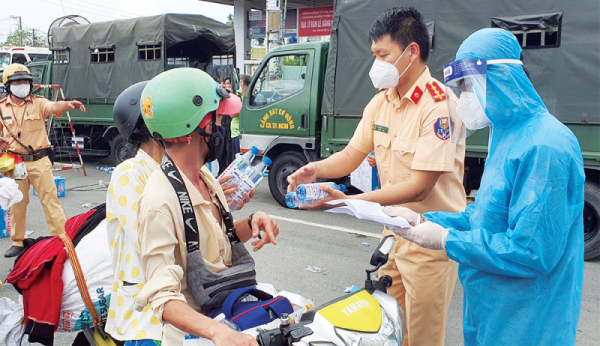 Following the directions of the Prime Minister, the Chairman of the National Traffic Safety Committee and leaders of the Ministry of Public Security, the traffic police force has mobilized maximum officers and soldiers and taken drastic measures to ensure traffic safety and order during the pandemic while participating actively in the fight against the COVID-19 pandemic over the past time.
Traffic police also safeguarded major events of the country and enhanced patrols along key routes to detect and handle law offences that may cause traffic accidents, especially drinking-driving, illicit drug abuse, overloading, and illegal racing.
In the first 9 months of 2021, thanks to the police's efforts, the number of traffic accidents, traffic deaths and injuries decreased by 50%, 60% and 77 % respectively compared to the same period in 2020.
In order to support the transportation of essential goods during the pandemic, the Traffic Police Department advised the Ministry of Public Security to issue many documents guiding traffic police units nationwide to actively deploy anti-pandemic plans on the road while creating favorable conditions for vehicles transporting essentials.
The traffic police force also joined other sectors to work at 2,962 anti-pandemic checkpoints along key national highways as well as set up 5,000 traffic posts on roads across the country to guide and ensure smooth traffic flows.
Additionally, the traffic police force supported people returning to their home villages from Ho Chi Minh City and Southern pandemic-hit localities, offered them necessary necessities, gasoline, and food as well as repaired their damaged vehicles, arranged buses to transport the elderly or ill people, children and pregnant women back to their home for free.
Their wholehearted devotion to work and great support for people have been recognized and appreciated by the people.
In order to fulfill the "dual goals" in the new situation,  the traffic police force will continue to increase patrols and take serious action against traffic safety violations, ensure safe and uninterrupted traffic flows in support of socio-economic development of the country while contributing to fighting the COVID-19 pandemic and supporting  victims of the recent storms and floods.